---
Greetings everyone,

PlayINERA Vanilla has officially decided on the date of our Launch!

Open Beta - 18 March 2023, 21:00 UTC+2
Launch date: 24 MARCH 2023, 21:00 UTC+2

It's been about 3 years since our last server and we're happy to announce that Vanilla is coming back!

We've put a lot of effort into getting everything back up and running even though we're less team members.

Thank you for your support over the years and we will try our best to give you a pleasant experience on our new Vanilla(+) server!

Features -> https://vanilla.playinera.com/features/
Discord: https://discord.com/invite/WD8fWf5

We would be glad to see familiar faces again as well as welcome new ones!
Summary of our features:
NEW Feature

integrated into the Adventurer Guide -> Farm Only buffs are free up to level 76. Characters over level 76 can get buffs for a fee. Buffs applied depending on player's level, Farm Only buffs are cancelled in Siege / Epic PvP zones & while in a chaotic state but they remain in case of PvP in a general area so you can defend your spot!


INERA Hub
Library
Clan Recruitment System
Options
Services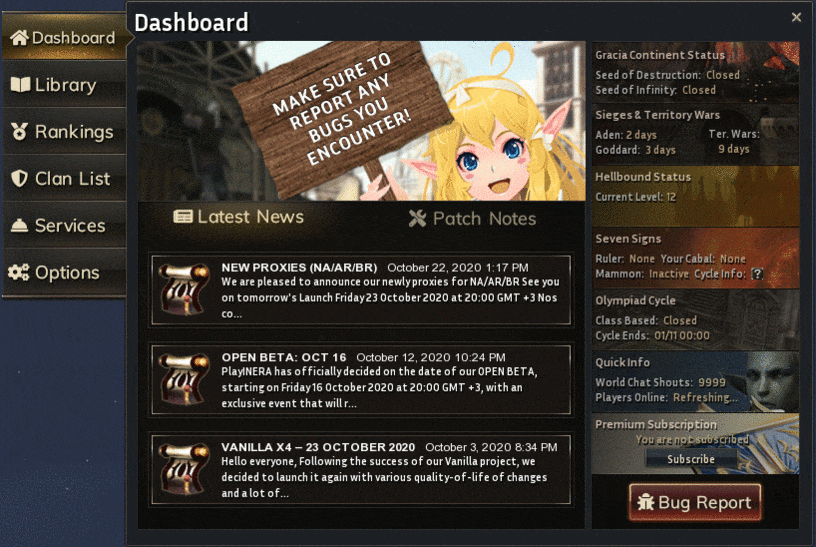 Shift + Click Information on Monsters